Part 1: What is a Vehicle's Title?
You're interested in buying a car. You know you'll fill out a lot of paperwork at the dealership and need to obtain things like a vehicle title, but do you know why? What is a car title anyway?
According to DMV. Org, a vehicle's certificate of title, aka "car title" or "pink slip," is the legal document that proves your ownership. It may include the owner's name, as well as any current lien holders. It is typically issued by a state's secretary via the Department of Motor Vehicles.
When a new person takes over ownership of a vehicle its title must be transferred to them. The owner "signs over" the title to the buyer/new owner.
The following situations require a title transfer:
Buying or selling a Vehicle
Removing Lien Info
Family Transfers
Donating a Vehicle
Inheriting a Vehicle
Making a Name Change
Gifting a Vehicle
The process for titling a vehicle is relatively straightforward but can vary from one car-buyer to another based on where/how their vehicle is being purchased or obtained and in what state it is being registered.
The title certificate looks different from state to state, but includes the same basic information.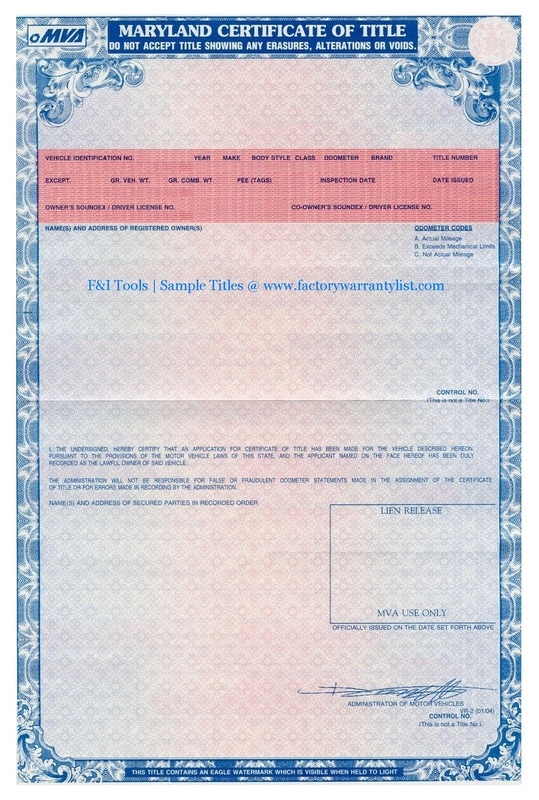 This includes the purchase price of the car; owner information such as name and address, the car's year, vehicle vin number, license plate number, technical information, make, model and the date on which the car was first sold.
A title can also tell you important information about the vehicle's history. Major "events" in the life of a car are recorded on the title by the owner's auto insurance company.
When shopping for a used vehicle, it's ideal to purchase something with a "clean title," which means it hasn't been in any major accidents and has never been declared a "total loss," by an insurance company.
Buyers should also make sure their vehicle has a "clear title," which means that's there is no financial lien or levy against it and no creditors can come out of the woodwork to claim ownership of it.
It's important to note that because most vehicle purchases are financed through a bank loan, the certificate of title is normally held by that lender, to be released to the purchaser once the balance owed on the car has been paid off.
This is not always the case, however. In our home state of Maryland for example, the transferred title is sent directly to the purchaser, but the lender's information appears on that title document. Once the vehicle has been paid off, the lender sends a notarized "release" to the car-owner.
A buyer uses their title to register their newly purchased vehicle in their state of residence.
When you purchase from a dealership, the dealer will generally help handle the car title transfer and registration process for you.
Regardless, it's useful to know just what to expect from the car-buying process, as titling a vehicle is just one of the many aspects you'll encounter.
Krietz Auto Blog offers Tips, Advice, and In-depth Automotive Information for Car-Buyers and Drivers.