At Krietz, we believe that buying an automobile should NOT be a stressful experience. Because we aim to give customers as much peace of mind as possible, we offer buyers as many protections as we can.
Not only are our automobiles NIADA certified, but we also offer buyers the option to insure their vehicles with us before they even drive off the lot.
Krietz offers new buyers something called "Gap Insurance" coverage, also known as, "Guaranteed Auto Protection Insurance."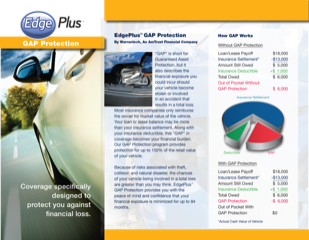 You may have heard of it if you've shopped for new or only slightly used vehicles in the past.
It's wise to buy Gap Insurance if you fit the following profile:
You're buying a new or slightly used vehicle

You're buying a vehicle of significant value

You're financing a vehicle with a large down payment
Why?
Were you to suffer the misfortune of having your newly purchased vehicle stolen, damaged or totaled, the financial loss could be substantial without Gap Insurance coverage.
You see, we all know that vehicles begin to depreciate in value as soon as they're driven off the lot. Although you've financed a car at a sticker price of $20,000 for example, as soon as you take it home, its "current market value," drops and continues to drop 15-25 percent per year of ownership. The 11 percent drop you'll see immediately following purchase would have you losing $2,200 in value on that $20, 000 vehicle right away.
Despite this, auto insurers generally only offer protection matching that "current market value" for your car at the time of incident. Stated plainly, this means that the depreciated value of your car is all that's covered.
This Is where Gap Coverage comes in.
Gap insurance will cover the difference between the depreciated value of your vehicle and what it was worth when you purchased it. I.e., the amount you still owe on your loan or lease.
"Gap pays that Gap," said Seth Near, Settlement Officer here at Krietz Auto.
"Say you got into an accident that you didn't even cause. Say someone hits you. You owe more than their insurance is saying is market value. You would have to come out of pocket with all of that money," he said.
"It could be thousands and thousands of dollars."
Near said that here at Krietz we offer this protection because we aim to treat car-buyers like family.
"The reward is that the guest leaves happy."